Ahhhh. Springtime. It has a way of dramatically announcing it's presence. It starts with a tickle on the back of my throat that escalates to a running nose only to linger in the "I can't breathe" phase until all the newly blooming flowers start to wilt.
My husband, who isn't phased by pollen, stops to smell the beautiful lilacs at the gate to our yard every time we head out for a daily walk. He tells me they smell lovely. From their bright color and delicate petals, it isn't hard to believe him.
Last year, we planted cornflowers in our lower beds outside our vacation rental. The flowers were white with a bright purple interior. Such as:
Gorgeous. While we still have the original, it looks like Mother Nature went a bit crazy with her dye job on the newer stems:
But one of my favourite yard blooms are these:
The reason being is that they remind me of The Honkers from Sesame Street: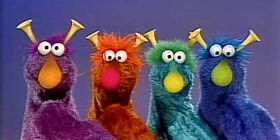 Happy Spring!
— Weegee Sachtjen